I must admit this review of the Galvin Green LARS Interface-1 jacket took me awhile. You see, in northern Utah we have two seasons: unbearable heat and winter. We are a desert technically, so we don't get much rain. So testing rain jackets is more of a challenge. And keep in mind, I do on-course testing, not just fly by one-wear reviews of golf apparel.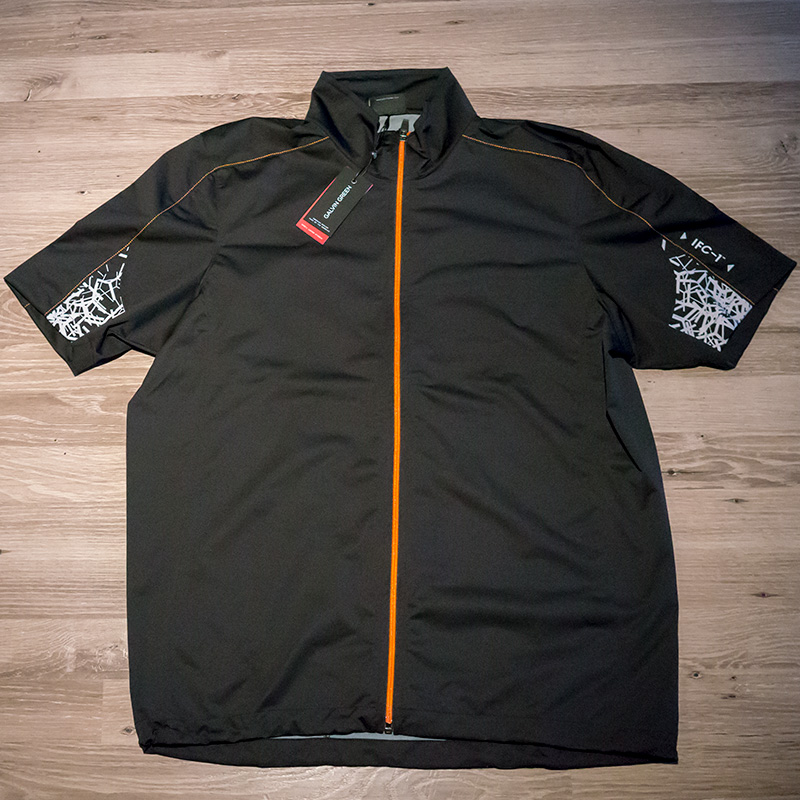 I've been thrilled to have the LARS in the bag, in the unlikely event that some rain hits. But due to some traveling to Florida, Bandon Dunes, and Mexico, I've had some great rounds logged with the LARS.
LARS Features
This LARS jacket by Galvin Green is a short sleeve windproof, water repellant jacket. LARS is versatile jacket for varying conditions when sleeves are not wanted or needed. The outer layer is a tightly knitted Polyester combined with a polyurethane membrane which is soft and smooth on the inside.
The waist has a draw string which is great for tightening down the hatches and keeping the wind out. I also like to tighten it to keep the garment from interfering with my putting stroke or golf swing.
Colors
LARS comes in three super colors, back (pictured), dark blue, and green.
Sizes
LARS comes in sizes small to triple-XL.
On the Course – On the Town
On one of my recent rounds in Florida a light rain started to fall. The problem is that the temps were about 85 degrees. The last thing I want to do is put on a long sleeve jacket and cook myself to death. The LARS kept my core dry, but allowed me to stay cool, at least physically.
I sported the LARS a ton on my trip to Bandon Dunes this past summer. At Bandon the temperatures were in the 60's, but with huge amounts of wind. Thanks to the LARS jacket I weathered the high winds well, pun intended. My enjoyment of that tremendous golf destination was aided by having the right apparel for the conditions.
I'll wear the LARS around town too, when I need to just cut the edge off of some wind or slight chilly conditions.
No matter what the conditions, I find LARS to be extremely comfortable. It performs flawlessly and provides a nice style to my outerwear. Speaking of style…
Style
One note about LARS. The style has a big of an edge to it, with the white graphics under the sleeves and on the back shoulder area. I like that quite a bit. It goes right along with my rock & roll attitude.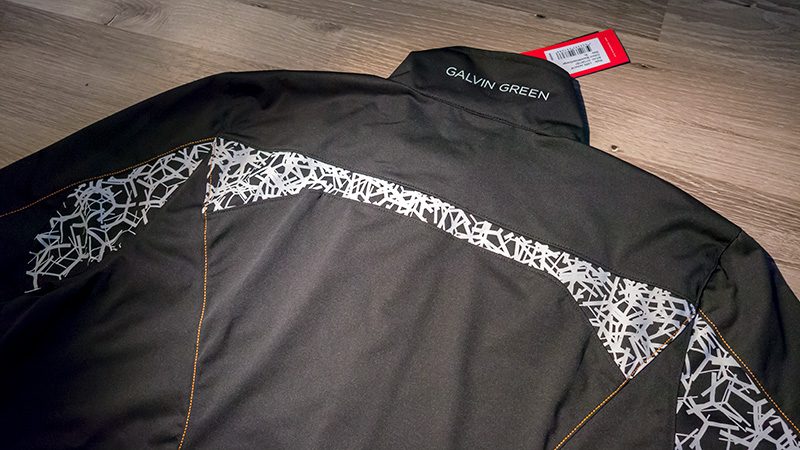 But LARS is certainly not obnoxious or over the top. It's super classy and sharp looking.
Conclusion
Galvin Green's LARS Interface-1 jacket lives up to what I expect from Galvin Green. Over the years I've reviewed many GG products, and they're all of the highest quality and design. The price for their products is not cheap. In fact, it's almost in the "if you have to ask how much it is, it's probably too much" department. That said, the LARS is worth every penny of its $329USD retail.
---
---