The HOG World Tour recently made a 2nd trip to Temecula, California and Pechanga Resort and Casino to check out the new expansion. This is a follow-up review of the resort. The last tour stop at Pechanga was back in 2015. You can find the original Pechanga Resort review here. Onsite is the "Journey at Pechanga" golf course, which was also reviewed here at Hooked on Golf Blog back in 2015.

Already the top Resort/Casino in California, Pechanga invested roughly $300 million to double its occupancy and make tremendous strides in expanding their resort experience. Let's take a look at what's new.
Expansion Quick Hits
Additional 568 rooms/suites.
New luxury spa
70,000 square foot event space
4.5 acre pool complex
Two new restaurants
Sweet Suite
I was excited to stay in one of the new suites in the new tower. The layout of the suite featured a separate family room with a master bedroom. The whole suite was wrapped in windows which overlooked the golf course, Journey at Pechanga. See below.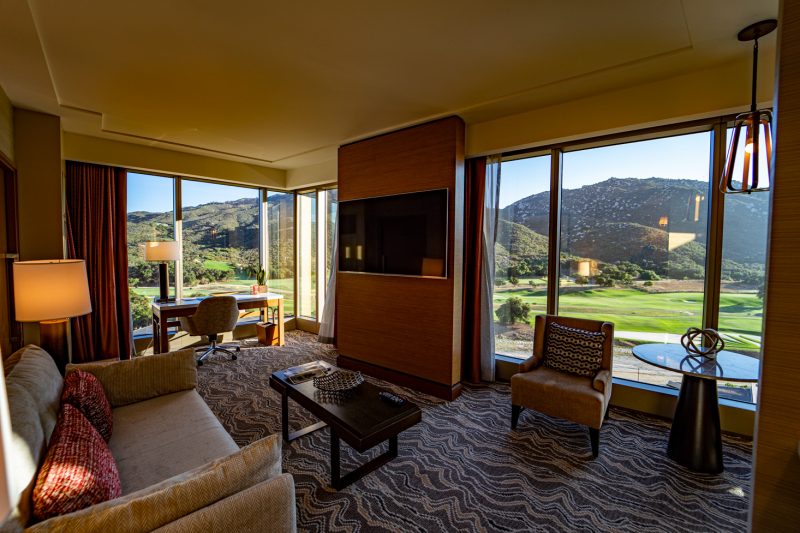 And here's the master bedroom below. What you don't see in the photo is the master bath, which is huge, and the jumbo flat screen TV which is located where guests lounging in bed can enjoy it.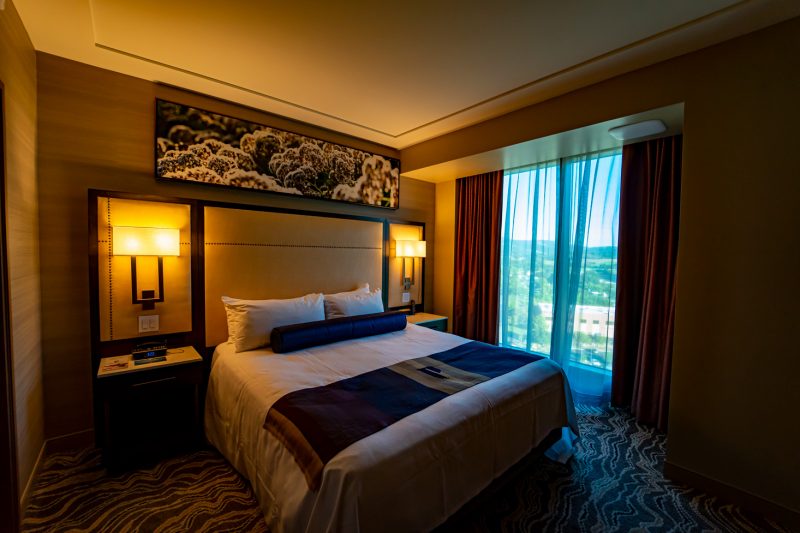 Pool
The old pool at Pechanga was not much to write home (or a blog post) about. The new 4.5 acre pool area is tremendous. It features adult and kid's pools, bars, food, slides, fountains, and terrific gazebos. Below is a shot of the huge, adult pool.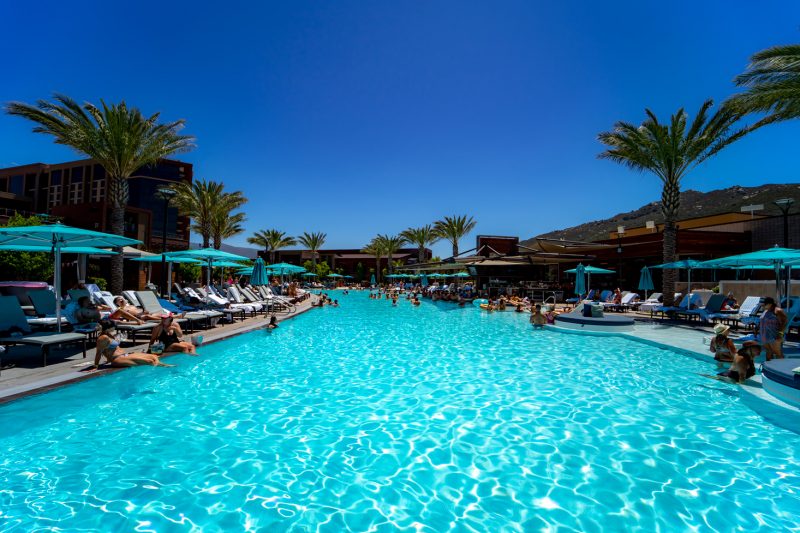 Pool food and beverage services are terrific. My family spent two straight days there and enjoyed great food and adult/kid beverages while lounging in our personal gazebo.
Be warned! The pool is not a calm and quiet place to relax. There is DJ music playing constantly and often times it gets loud. It was too loud and obnoxious for my personal taste and I was disappointed that there wasn't a "quiet area." But if you want to party at the pool and enjoy hours and ours of "boom tss boom tss boom tss" music, you'll dig it.
Junior Golf
This time around I was thrilled to get my 6 year old boy into the Journey at Pechanga Junior Golf academy. He had a terrific time learning some of the basics of the game and getting some great instruction. The instruction staff was terrific and made it really fun and interactive for the kids. After one lesson my boy's swing already looks better than mine.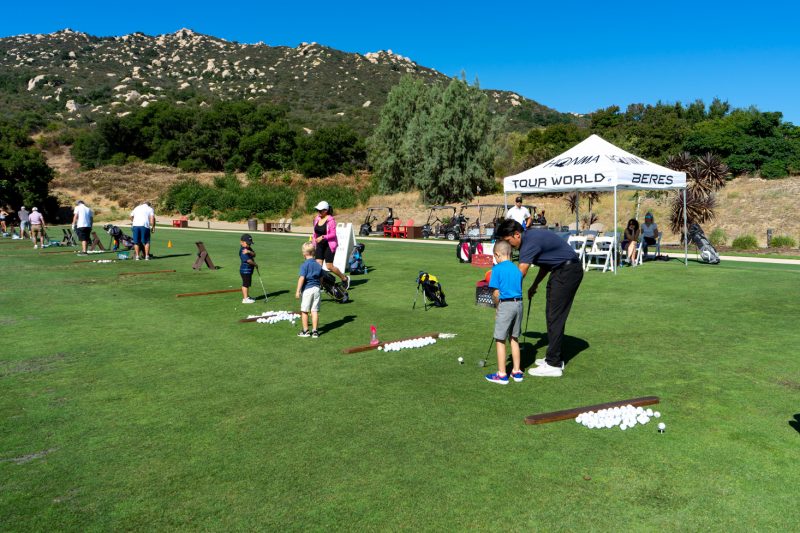 Spa & Fitness Center
I hit the fitness center for some calorie burning and cardio building. The fitness center is well equipped for the needs of any gym rat. I was very pleased to find a Peloton bike which I took advantage of.
After some long hours at the pool and then the fitness center, I was able to get a well needed massage at the resort spa. The spa facilities are huge, and feature private saunas, pools, steam rooms, as well as individual or couples massages. The whole spa experience is as good as you'll find. I was thrilled to get rid of those pesky knots in my lower back! That will help the golf swing for sure.
Food and Beverage
There are numerous terrific restaurants at Pechanga. My family enjoyed Italian at "Paisanos," sushi at the award winning "Umi Sushi and Oyster Bar," and some Irish pub style food and brews at "Kelsey's." In the mornings we would hit the "Lobby Bar & Grill" for the best latte I've ever had, and some solid breakfast offerings.
Casino
The casino space at Pechanga is huge. It rivals large Las Vegas resorts. But size isn't everything. The casino is super clean, well laid out, thoughtfully designed and enjoyable. Playing games of chance or simply enjoying "adult" activities is terrific at Pechanga.
Architecture
The lobby of the resort is architecturally tremendous. I found myself wanting to photograph the lobby more than anything else at the resort. It's quite stunning.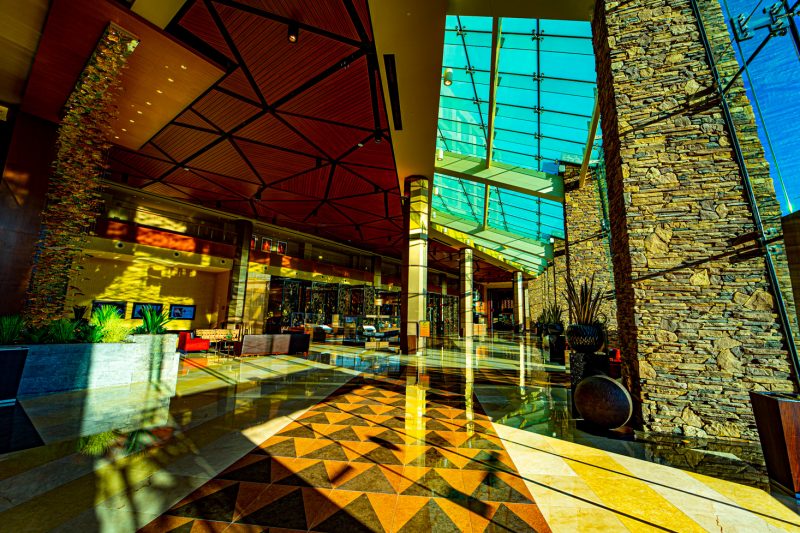 The architecture of the Journey at Pechanga golf course clubhouse is amazing as well.
Final Thoughts
Pechanga was already the #1 casino/resort in California. They didn't need to make a move, but they did. Pechangla doubled down and hit the jackpot. New additions like the new tower suites, pool area, and spa make Pechanga a must-go destination. Forget Vegas, especially if you're from California!
---
---