Bandon Dunes Golf Resort's Bandon Trails Golf Course at opened in 2005. "Trails" is the creation of Ben Crenshaw and Bill Coore, one of the best teams in modern golf architecture. The course offers a tremendous change in flavor from the other courses at Bandon Dunes, which are seaside. Instead, Bandon Trails takes the golfer on a journey through the inland dunes and unique Oregon woodlands and vegetation.
What a journey it is, in fact.
Bandon Trails Golf Course Overview
Bandon Trails is an 18-hole course which stretches out to a maximum 6,788 yards. The course rating from the tips (Black tees) is 73.6 with a slope of 130. Four additional sets of tees offer golfers of every age, gender, and skill level the opportunity to choose just the right amount of challenge.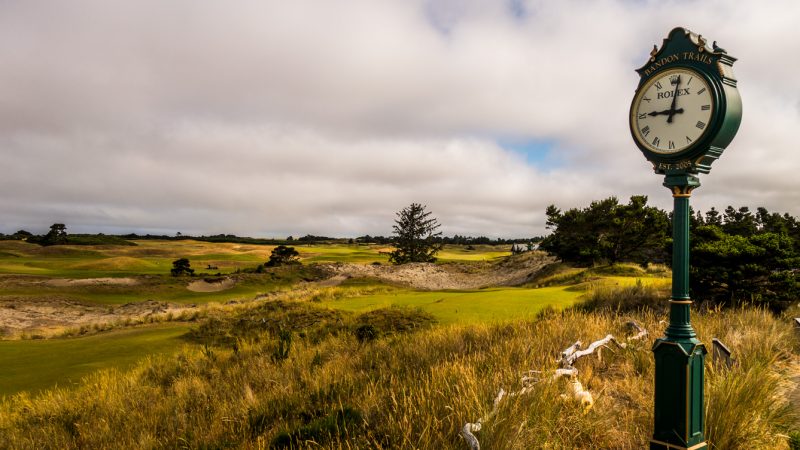 Trails offers up a serene, secluded, quiet, private experience with no houses or buildings of any kind on the course and no parallel fairways. There is plenty of elevation change at Trails. My unscientific measurement via my legs and feet tells me there's more elevation change at Trails than any other Bandon Dunes course, though Old Macdonald could have something to say about that.
Style-wise I'd call Bandon Trails a combination of a links and a modern parkland design, with some Coore/Crenshaw flavoring mixed in.
Tee
Tee shots on Bandon Trails present the golfer with highly visually pleasing looks. Plenty of photo-opps. Play at the right time of morning or evening when the shadows accentuate the course's shaping to maximize the aesthetic experience. Here's a great example below, with some great early morning shadows on the par-5 3rd hole.
Tee shots (not shot with a camera) don't tend to be deceptive or tricky but that's not to say they don't require solid execution. Well placed shots will reward the golfer with the best approach angles and chances for pars and birdies.
The par-3 tee shots at Bandon Trails are perhaps the most thrilling group on the course, with the very strong 2nd, 5th and 17th holes offering up thrilling design and visuals.
Fairway
The fairways at Bandon Trails are plenty wide and will catch most non-errant shots no problem. The fairways are all lined with native, non-short grass areas including dunes with light vegetation to hills/mountains with Oregon forest.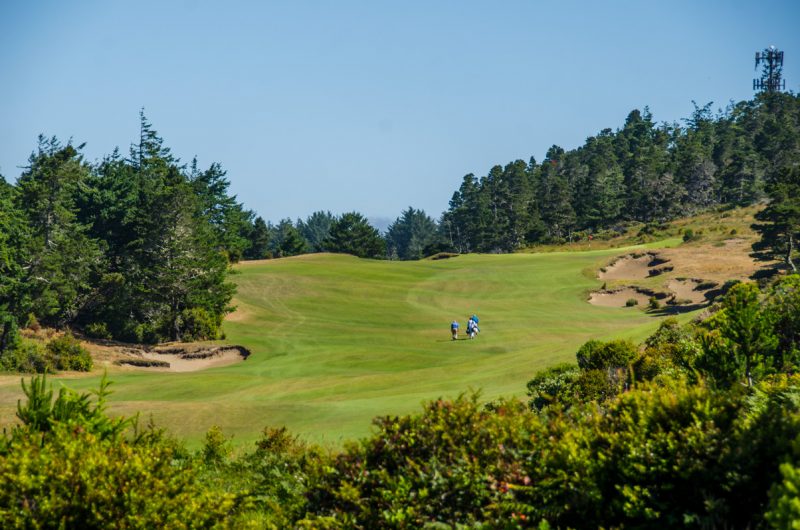 Most fairways feature rugged, native-style bunkering and natural waste areas. Finding those areas isn't an instant score-wrecker. A moderately well played recovery shot will give the golfer a shot at saving par or even making an occasional birdie.
Green
The greens at Bandon Trails are fun and challenging to putt, but not too crazy. 3 or 4-putts for decent putters are few and far between.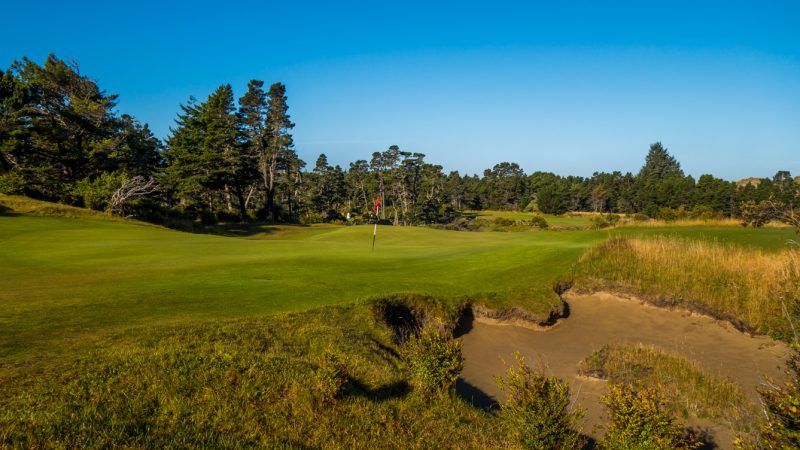 The green complexes (the green and its surrounding areas) at Trails are quite enjoyable to play and present many short game opportunities for the golfer to be creative. Short game options around most of the greens allow the golfer to try any kind of shot, from flops to low runners to putts. The latter for me usually.
Notable Holes
As mentioned the par-3's at Bandon Trails are very strong, highlighted by the 2nd, 5th and 17th.
The first hole (below) in the early morning looks amazing with it's long grass flowing in the dunes on each side of the fairway.
One other hole definitely worth mentioning is the thrilling par-4 14th, with its massive elevation drop from tee to green.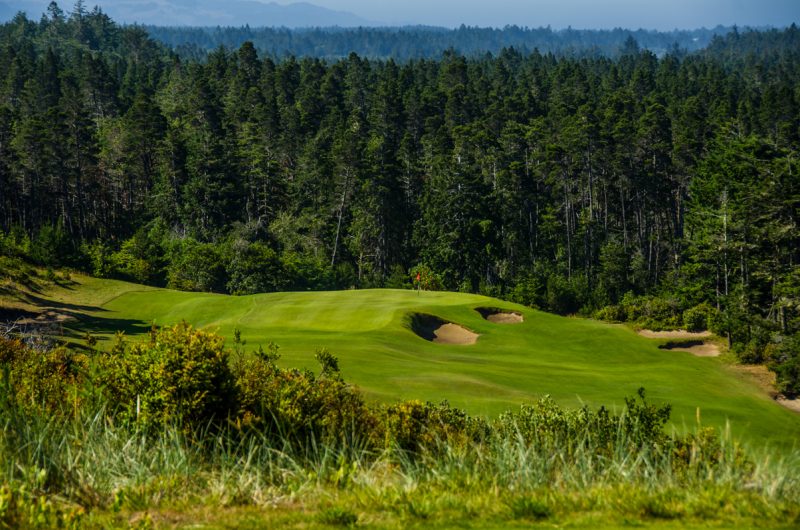 Behind the tee on the 14th is a plaque marking the spot where Bandon Dunes founder Mike Keiser stood and realized he had finally found the place, the "American Linksland."
Final Thoughts
Bandon Trails is one of the best walks I've ever had in golf, and I've walked many of the world's best. The architecture is tremendous, naturally guiding the golfer on a wonderful journey in nature, golf, and personal discovery.
Get to Bandon Dunes Golf Resort and experience Bandon Trails and the other fantastic courses the resort has to offer. It will be a trip of a lifetime, as was mine.
Related
Review: Pacific Dunes Golf Course at Bandon Dunes Golf Resort
Review: Old Macdonald Golf Course at Bandon Dunes Golf Resort
Review: Bandon Dunes Golf Course
Review: Bandon Preserve – 13-hole Par-3 Course
---
---