I'm particular to German engineering, especially cars. But cars aren't the only great products of German engineering. Add golf laser rangefinders to the list, from GPO. GPO is an abbreviation for German Precision Optics. GPO makes the new FLAGMASTER 1800 Golf Laser Rangefinder. Let's take a look.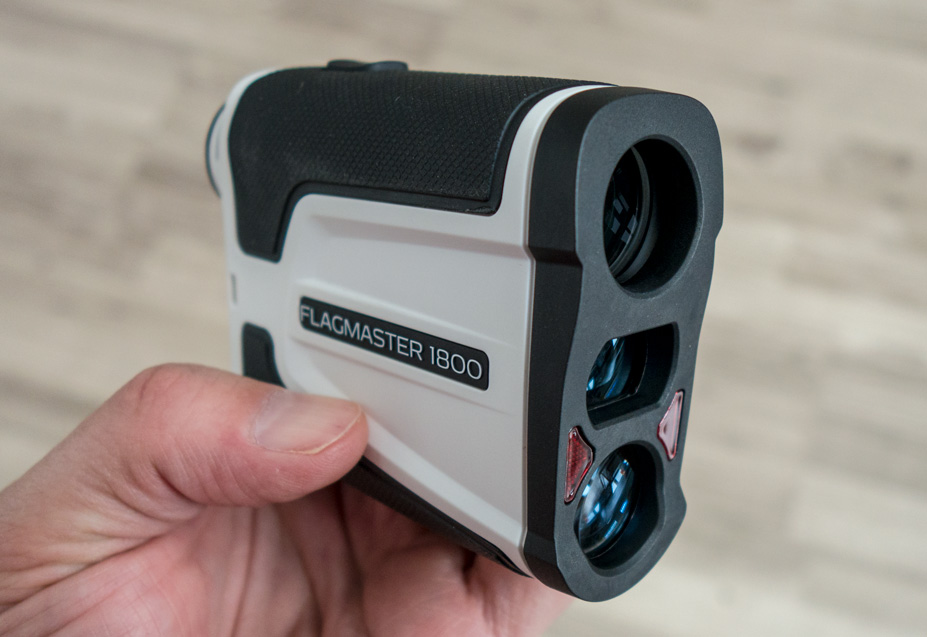 Features
The FLAGMASTER 1800 features advanced optical technology which helps the unit quickly and accurately lock onto the target and deliver a solid, accurate yardage. The unit is six-power, which is massively powerful for golf applications. While it is completely overkill, the unit can measure targets as far away as 1800 yards! Think of it like that German car, say a Porsche. It will go 180 miles per hour, but realistically the driver may not need that extra 100 MPH.
The unit looks for pins equipped with reflective "flaglock" prism tape, and uses a specific flag-finding algorithm if the tape is present. If there's no prism tape, the unit converts to a close-target distance function instead.
When the unit locks onto the flagstick, the unit makes a small vibration and a circle will appear around the flag icon in the viewfinder.
For practice rounds or times when the golfer wants to measure it, the 1800 offers slope reading. Slope reading will help the golfer adjust for elevation changes by producing a yardage number which accounts for the change. For instance, when shooting the par-3 17th at one of my home courses, the downhill shot is 155 yards. Due to the large drop, the hole plays more like it is 147 yards. To make things fair, a red LED light flashes when the 1800 is in slope mode. This allows judges and competitors to see whether the unit is in slope mode or not.
The unit is rated IPX4 rainproof.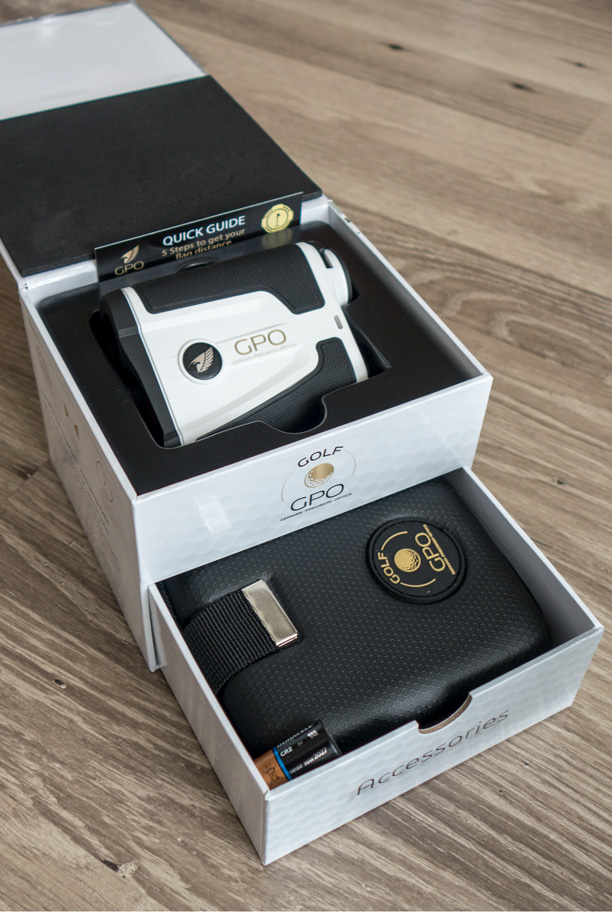 As seen in the photo above, the 1800 comes with a nice case and also includes a CR2 battery.
On The Course
The 1800 is easy to use and very accurate. Locking onto the pin or other targets is quick. The unit does a good job of discerning the pin when there's a background of other objects it might false positive on, like trees behind. The longest distance I shot was from the clubhouse of my home course to the pin on the par-5 first green, 685 yards. Boom. With driver technology getting more and more "long" every year, we need to shoot pins at 685 yards now. I kid, sort of.
The display is clear and easy to read, and the image clarity in the viewfinder is excellent.
Final Thoughts
GPO's Flagmaster 1800 is a solid option in the golf laser rangefinder market. It is quick and easy to use and produces accurate yardages from ridiculously long distances!
I have not personally confirmed this, but I've been told that this unit has been seen for sale in Costco locations, at considerably less than the $390 retail price.
---
---