The Paradise golf shirt is part of Puma's PLAY LOOSE collection and that's just what I've been doing in it.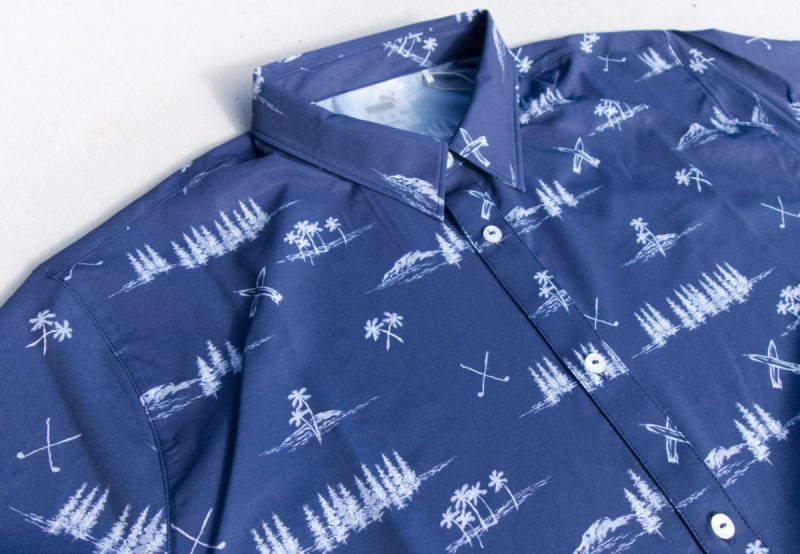 I've played loose just about everywhere, from the office to dinner parties to the beach. About the only place I haven't played loose in it is the golf course. Unfortunately due to my shoulder injury, I won't be golfing until sometime in 2020. Still, I can tout the wonders of this great apparel script choice from Puma Golf. Let's take a look.
Paradise Overview
This full button-up shirt is made from 89% polyester and 11% spandex, making it lightweight and very soft. It's extremely thin and comfortable. I can barely tell I have a shirt on. It's so smooth and soft that it practically feels better to wear it than not. The fit is right on and when I make body movements the shirt gives and moves with me, rather than resisting or binding.
The print on the shirt features some golf clubs, palm trees and a mountain scene.
Caring for this shirt is a breeze, no pun intended. The poly and spandex combination resists wrinkling and doesn't shrink, like cotton shirts. I take it out of the dryer and slap it on. No ironing or steaming to get the wrinkles out.
Speaking of the fabric, the shirt provides moisture wicking. This is a process where the fabric pulls the moisture away from the wearer's body, where it can then be evaporated into the atmosphere. This helps keep the wearer dry and cool.
Colors/Sizes
The Paradise shirt comes in one color, the dark blue you see in the images. Sizes range from small to double-extra-large. I wear an XL and the fit is perfect.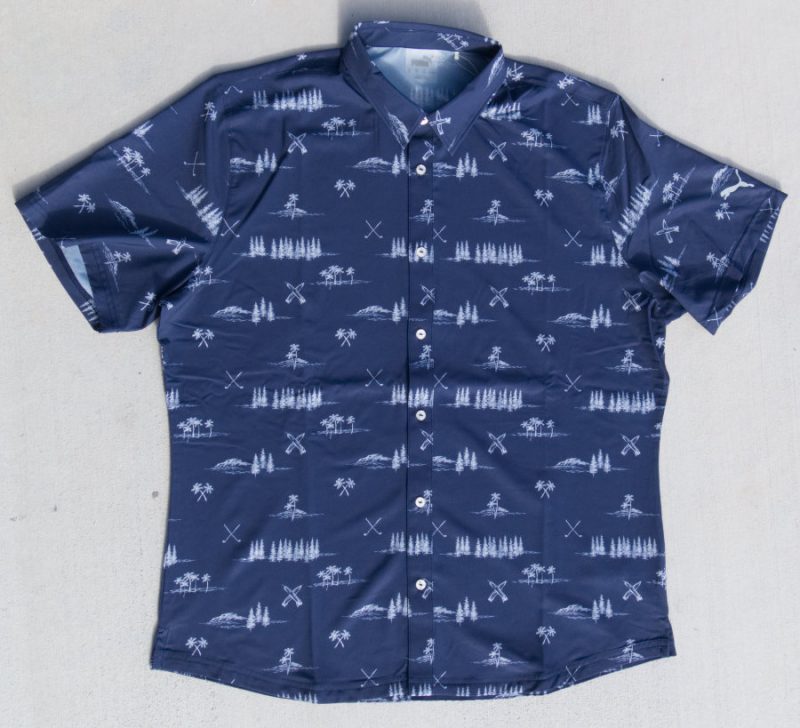 On The Course
Well shoot. I can't do my normal "on the course" section which I like to do in my reviews due to the shoulder injury. That said, I have worn this great shirt at the beach in Florida, the mountains of Utah, in art galleries, at work, at home, and dozens of other places. I've had nothing but great experiences. There was even one lady at work who I've probably never spoken to in at least a year. She came right up to me and gave me a "nice shirt" comment.
Final Thoughts
The Paradise shirt ($75) from Puma Golf is a very versatile and stylish alternative to stock golf polos. Mine's one of my top gamers, featured in many of my personal apparel scripts.
Wear it untucked!
---
---