Finally fall has arrived and I've been able to put my new Rhoback Fog Horn Pullover to work. I'm wearing it now! Rhoback is a new apparel brand which is making some great golf threads. Let's take a look at the Fog Horn Pullover.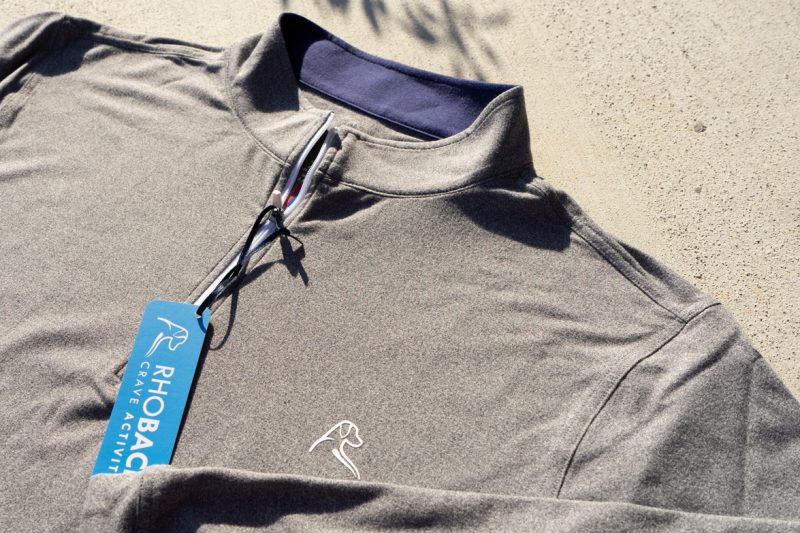 Features
Fog Horn is a 1/4 zip pullover with super-soft and flexible fabric which is extremely comfortable. Said fabric is 54% polyester, 32% nylon and 14% spandex. I like the fact that it is 0% cotton. That means the pullover is low maintenance and doesn't wrinkle or shrink.
In addition to the great comfort and fit, the Fog Horn's fabric provides moisture-wicking properties. Moisture wicking is where the fabric pulls moisture from the wearer and helps it evaporate.
The Fog Horn provides 40-50+ UPF sun protection.
The unique "bacon collar" is stylish and helps keep the wearer warm and comfortable. Unfortunately the bacon collar is not edible.
Sizes/Colors
Sizes for the Fog Horn range from small to triple-extra-large. I'm sporting the large and the fit is just right.
Fog Horn comes in one color (pictured) which is a heathered gray with navy blue lining.
In Action
I'll be wearing my Fog Horn all day today at the day job, writing code. My workspace isn't terribly warm so having this 1/4 zip in play will help me stay comfortable and look great during my work day.
On the course the Fog Horn provides a great protection layer in chilly conditions. It helps take the edge off those fall temperatures. The flexibility and cut of the fabric means the garment will not restrict the golfer or get in the way during the golf swing.
Final Thoughts
The Fog Horn 1/4 zip is super sharp looking, comfortable, and provides great performance benefits. Add one to your golf apparel scripting. You can thank me later.
Related
Check out my review of the Rhoback Game Day polos!
---
---