It has been raining here in northern Utah for about four straight weeks. Not just a light rain either. It has been pouring. To you locals here I apologize. It is my fault. You see, I bought new patio furniture and a new grill for the summer. Since the day I bought it, it has been raining non-stop.
Fortunately for me I'm dealing with the rain in style with my new Weatherman golf umbrella, which arrived about 3 weeks ago. Perfect timing. I've had it in use for days and days and I've been extremely impressed. Let's take a look at the basic features of this umbrella, including its "mobile experience."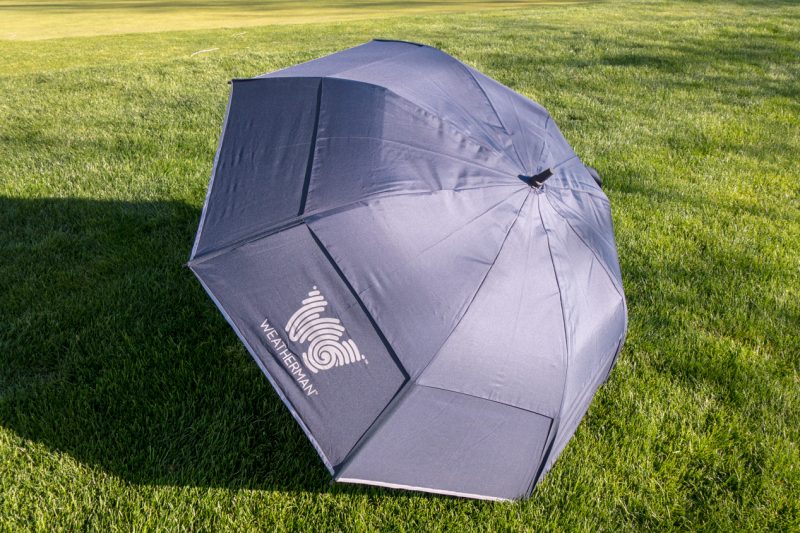 Weatherman Golf Umbrella Features
Size! I'm using the 62 inch model. It is quite large and covers a ton of area. The width would easily cover caddie and player. Weatherman makes 68 inch model as well.
The construction of this umbrella is like a BMW crossed with a tank. It's so solid, well built, high performance, and extremely attractive. The skeleton of the umbrella is made from industrial-strength fiberglass. The fabric is coated in Teflon to repel water. The handle is beefy and comfortable.
The fabric section is a dual layer design, which helps the umbrella bust the wind. In fact, this umbrella can withstand winds up to 55 mph. 55 mph should be plenty for any golfer to survive a round in extreme rain and wind, except perhaps Scottish chaps. 55 is but a "wee breeze" in Scotland.
A simple and smooth auto-open feature is activated by a button on the handle. It opens quickly. Closing is manual, and couldn't be easier.
On the underneath of the umbrella is a mesh pocket for storing personal items.
Never thought I'd see the day, but this umbrella comes with its own "mobile experience." First theres a bluetooth tracker (round item in photo below) which helps the owner track down the umbrella when it is misplaced, or stolen. Second, the Weatherman app will keep you up to date on pending rain and remind you when to have the umbrella ready.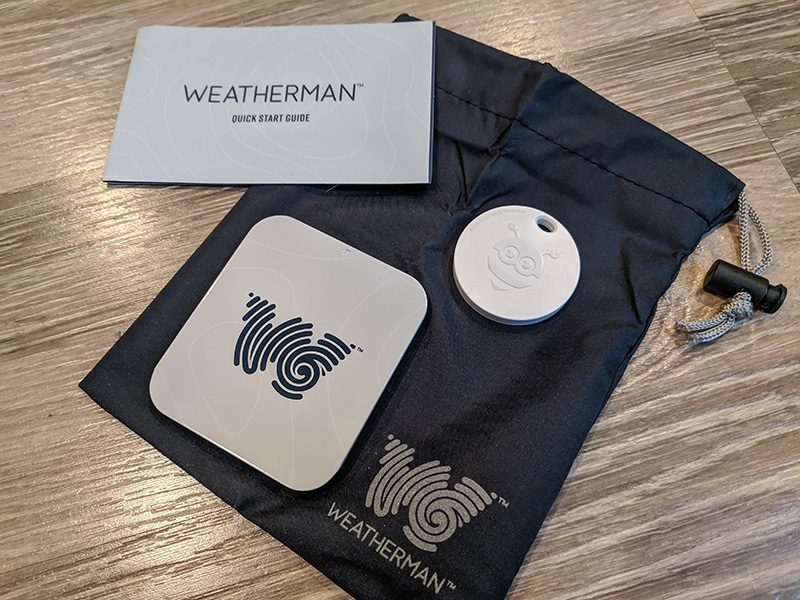 Ryder Cup
Weatherman was the maker of the 2018 USA Ryder Cup team umbrellas. Unfortunately those models now appear to be sold out.
Gift Idea
The Weatherman umbrella would make a fantastic gift for Mother's Day, Father's Day, birthdays or Christmas.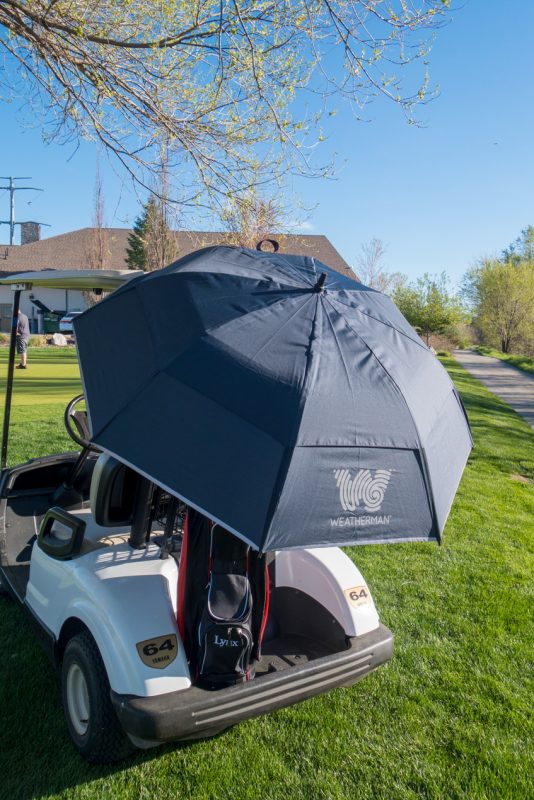 Final Thoughts
This is the best golf umbrella I've ever used. With about 15 years of golf blogging under my belt so far, I've tested many.
Every element of this umbrella is well thought out, superbly designed, and manufactured with the highest of standards.
---
---